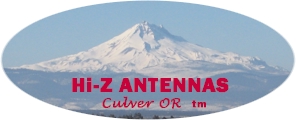 HIGH PERFORMANCE
HF RECEIVING SYSTEMS & COMPONENTS
Hi-Z Antennas (tm)




HI-Z ANNOUNCES NEW PRODUCTS

There are Several New Products available:
First, there are 2 New Versions of High Impedance Amplifiers
HIZ-AMP-PLUS HIZ-AMP-V2
All New Construction and Performance
Ultra Stable Amplitude and Phase Shift Accuracy and Lower Cost!!!
Click one of the above images to go to the New Hi-Z Amp page.
Next there is the ALL NEW 3 Element Receiving ARRAY
All New Three Element Array Construction and Performance
Available as Component Kits or Individual Assemblies
Much greater Combining accuracy for Increased Performance
Click one of the above images to go to the New Three element page
And there is the ALL NEW 75 Ohm Preamplifier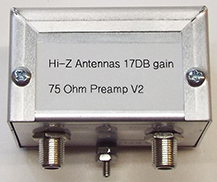 HIZ-PREAMP-75-V2
All New Construction and Performance
This Preamplifier has 17 dB gain and much lower noise the old Preamp.
The Amp is housed in a metal enclosure and will bypass itself when power is removed
Click the above image to go to the New 75 ohm preamp page
And there is the New Selectable 3 Element Array
Delay Line.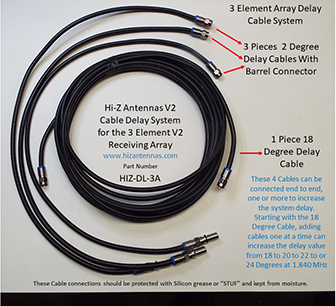 HIZ-DL-3A
Click the above image to go to the New Three Element Manual for Line Use
There are 2 Digital Shack Switches
The Hi-Z SS2 Manual and the SS2-Plus with USB control
New Hi-Z SHACK SWITCH 2 and Hi-Z Shack Switch 2 Plus
This Shack Switch Replacement Can Be Used With Any of the Hi-Z Receiving Arrays
This product has MANY features. Among them are Omni directional rotary encoder, Crystal clear OLED display,
In Depth Programmability, Optical Isolation, Small size, and many many more.
Click the Picture Above for the New HIZ-SS2 Product Introduction Document
Click Support Above for the HIZ-SS2 Manual
Click the SS2 Icon for the HIZ-SS2 Page
The best of two worlds come together. DX Engineering conceived innovative phasing methods and systems for HF directive receive arrays. Building on these design breakthroughs, Hi-Z Antennas has been producing excellent receiving systems for over five years. Hi-Zís president, Lee Strahan K7TJR, has been focused on performance improvements to these designs with one goal in mind - to provide superior high performance receiving products for amateur radio enthusiasts. Hi-Z is always pushing the boundaries to deliver higher performance for HF receiving systems - so they remain second to none. HI-Z is recognized worldwide for their commitment to amateur radio.
<![if !vml]>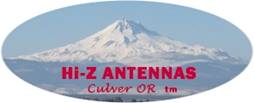 <![endif]> PLUS <![if !vml]>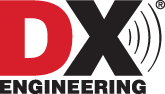 <![endif]>
<![if !vml]>
<![endif]>

Hi-Z was coined to be synonymous with high impedance. Z is the accepted engineering term for impedance. The specialty at Hi-Z Antennas is signal processing from shortened vertical antennas which reflect very high impedances at low frequencies.
Mission Statement: After decades of research and extensive engineering, Hi-Z was created from my passion in this field. Therefore my passion and experience is embodied in every product I design. Lee K7TJR

Hi-Z Antennas
8125 S.W. Larch Dr.
Culver OR 97734 USA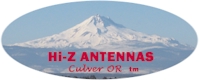 Last Update 12/27/2017
All web content Copyright 2010-2011-2012-2013-2014-2015-2016-2017