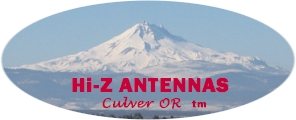 HIGH PERFORMANCE
HF RECEIVING SYSTEMS & COMPONENTS
Hi-Z Antennas (tm)
Hi-Z was coined to be synonymous with high impedance. Z is the accepted engineering term for impedance. The specialty at Hi-Z Antennas is signal processing from shortened vertical antennas which reflect very high impedances at low frequencies.
Mission Statement: After decades of research and extensive engineering, Hi-Z was created from my passion in this field. Therefore my passion and experience is embodied in every product I design. Lee K7TJR




HI-Z ANNOUNCES
Again This year we will be at Visalia
Look for the Hi-Z door prize of a 4 Element Plus-6 system
Hope You Win!!!!
Please stop Dick or myself at Visalia and at least say hello.
We welcome any Hi-Z array stories as well.
75 Ohm Amp in NEW Enclosure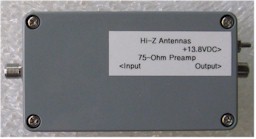 Our very same 75 ohm 18dB preamp in the new box. It is a totally weather-resistant and ruggedized version.

Hi-Z Amp PLUS & PLUS-6
HI-Z Amp PLUS NEW
This is the same proven Hi-Z amp design we have been using. There have been a couple of improved components installed for better reliability. The circuit board has been redesigned to fit in the water resistant, gasketed enclosure eliminating most of the hard wiring. The F connector is now soldered to the board eliminating loose connections. Performance remains the same, just slightly better due to improved power handling components.
HI-Z Amp PLUS-6
This is a totally redesigned amplifier. It is a totally weather-resistant and ruggedized version. In our continuing investment to make Hi-Z products the best they can be, we have spent considerable effort in re-engineering the functionality and capabilities of this core component for our receiving arrays. With the advent of portable operations, use of shorter verticals the PLUS-6 is well suited for these applications. With other systems on the horizon the new design Amp will satisfy all engineering requirements. In time these will be the standard components supplied with our systems. The current version Hi-Z Amp will be maintained for a long time to come. We will maintain parts and be able to service the current Amp, this is our commitment to you to maintain your investment in our products. Hi-Z Amp PLUS-6s are shipping now.
A little commentary about the PLUS-6. I have a 4-8PRO, the original prototype system and many months ago installed the first PLUS-6 amps on 4 of the 8 verticals. Incredible the performance difference. During the VP8ORK operation, selecting between SE and S directions the path was somewhere in the middle. The SE direction was using the standard Hi-Z Amp and the S was using the Hi-Z Amp PLUS-6. When switching back and forth the difference was just as predicted and designed. With virtually no increased in the NF (noise floor) the signal would pop just about one S-unit or 6dbs higher when listening in the S direction. KO7N
Specifications:
· Increased gain model – PLUS-6 0dB (both models maintain 75 ohm output impedance)
· L=4.6 W=2.6 H=1.6 (not including the terminals or connectors)
Features & Benefits:
· Rugged weatherized enclosure
· No need to cover the amp, simplified mounting
· Reduces cost (enclosures) and time to mount and connect the Amp to the vertical elements
Pricing:
Hi-Z Amp PLUS-6 (+6db more gain) $104.00 individually
More information click here:

this is link to PLUS-6 amp page
<![if !vml]>
<![endif]> <![if !vml]>
<![endif]>
Testimonial PLUS-6
Good morning Lee and Dick. . .
Today is my first epiphany experience with the 8 circle with the new amps.
I'm sitting here listening to TX7M on 1831.7. Conditions are not good this morning and he's peaking about S5/S6 on the TX four square but takes long, deep fades down to S0, occasionally not even copyable. Other than an occasional static crash of S7, my S meter on the FT1000MP is sitting on S0. . .no bars even lit. The TX7 will fade down to where I can just barely tell he's there on the TX four square. When I switch to the 8 circle he's Q5 copy with an S4 meter reading! So not only does the 8 circle hearing him with a better SNR, but it's actually hearing him with greater absolute signal strength. It's totally amazing. I sit here and keep switching back and forth between the TX and RX arrays, thinking I'm doing something wrong or overlooking something. Now I know the TX four square hears very, very well. But the degree that the 8 circle is hearing better, both SNR and absolute signal level, is phenomenal. It's enough to make me almost think maybe I need to check out the TX four square when it gets to be daylight. You have absolutely hit the mark with the Plus6 amp.
73. . . Dave W0FLS
<![if !vml]>
<![endif]>

We want to express our profound thanks to all of our customers. It is you, that we work hard for each day and as they say work at something that you truly enjoy and you will never work another day of your life, That is the mode of operation at Hi-Z, everyday is a new adventure and we are excited about all that we see in the future.

Dick KO7N 541-543-9921
8125 S.W. Larch Dr. Culver OR 97734 USA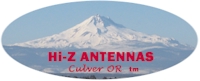 Last Update 11/1/2012
All web content Copyright 2010-2011-2012